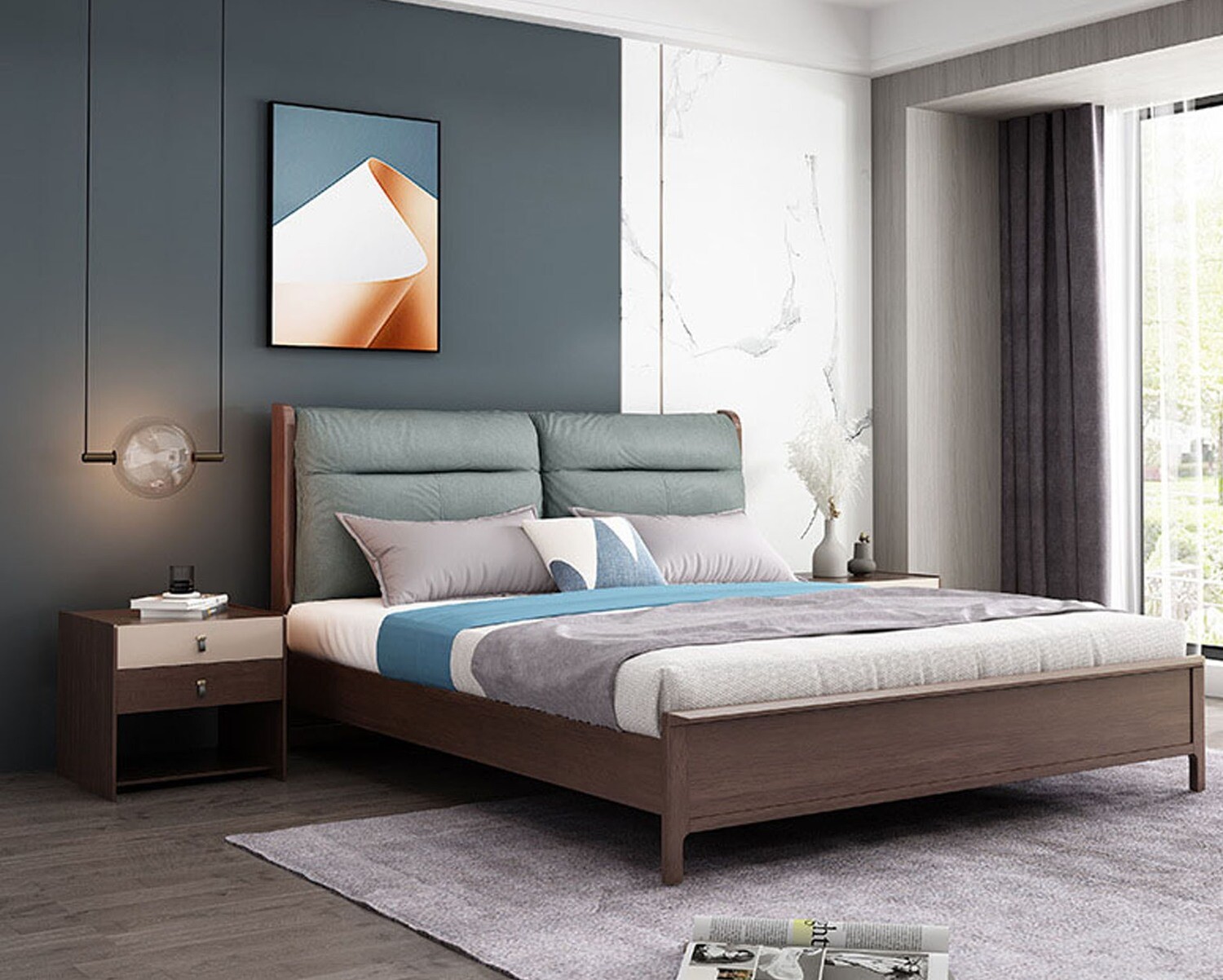 Flotti Mia Solid Thailand Rubberwood Bed Frame (Double, Queen, King) (Side Drawers Are Not Included)
220-2-1-52
Product Details
Dimension:
■Solid Thailand Rubberwood is a favored option for furniture due to its reliability and eco-friendliness. This wood, which belongs to the maple family, outperforms other pricey woods in terms of sturdiness, rigidity, and firmness, all at unbeatable prices. Moreover, Rubberwood presents itself as the perfect candidate for staining and finishing, making it adaptable to any desired color alterations.

Bed Frame Details:

Materials

Headboard: Rubber Wood+Technology Cloth+Cotton

Bed Support Rod/ Bed Slats: Rubber Wood

Bed Side Rail: Rubber Wood

Sizes
Weight
Weight Capacity:
Packing Size

Ctn 1/5 High and low screen- 140*13*106cm

Ctn 2/5 Bedside- 201*17*9cm

Ctn 3/5 Bed board- 132*12*18cm

Ctn 4/5 Support rod- 191*4*6cm

Ctn 5/5 Soft Case - 70*65*25cm

Ctn 1/5 High and low screen- 155*13*106cm

Ctn 2/5 Bedside- 201*17*9cm

Ctn 3/5 Bed board- 147*12*18cm

Ctn 4/5 Support rod- 191*4*6cm

Ctn 5/5 Soft Case - 75*65*25cm

Ctn 1/5 High and low screen- 186*13*106cm

Ctn 2/5 Bedside- 201*17*9cm

Ctn 3/5 Bed board- 178*12*20cm

Ctn 4/5 Support rod- 198*4*6cm

Ctn 5/5 Soft Case - 85*65*25cm
Scientifically Proven Materials
1. Bamboo Fabric
Reasons why you may choose bamboo fabric over its conventional counterparts
This material is extremely soft, durable, strong, absorbent, lightweight, and dry quickly.
Bamboo also has the ability to adapt to its environment keeping you cool in the summer and warm in the winter. If you have never felt bamboo fabric, it feels similar to silk.
All of these properties make it ideal for those with sensitive skin, such as new-born babies.

Antibacterial – keeps you odor free and feeling and smelling fresh
Highly sweat absorbent (Pulls moisture from skin for evaporation – moisture wicking) – keeps you dry
Powerfully insulating – keeps you cooler in summer and warmer in winter
One of the softest fabrics on the planet you'll love the way it feels
Naturally UV protectant – protect yourself from skin cancer
Hypoallergenic – natural bamboo does not cause allergic reactions
Most eco-friendly fabric on the planet – help save your planet
2. Polyester Fiber
Chemical-Free Fire retardant.
3. Memory Foam and Wave Foam
Wave foam increases air circulation and better cushion.
Memory foam prevents motion transfer and improve body and spine support.
4. Support Foam
High density foam that contours to the body, offering good spinal alignment and support.
5. Benefits of Using Hybrid Spring Mattress
Zero Movement Transfer

Unlike other types of mattresses where your body weight is spread across the surface, each pocket spring reacts independently – even for king size mattresses in Singapore. This helps promote a good night's sleep.

Consistently Firm

The level of firmness across the entire surface of a pocket spring mattress is hard to replicate. The tension is very consistent, owing it to the individually-enclosed pocket springs. This helps add to the level of comfort when sleeping on a pocket spring mattress.

Total Pain and Pressure Relief

The pressure of sleeping on a mattress that's soft or too hard can make it very uncomfortable to sleep. This can make every waking moment of your life a lot more stressful than it should be. But, with pocket spring mattresses, each individual spring acts to support your entire body, making it near-impossible for individual areas, like your hips and shoulders, to have too much pressure when sleeping. For this very reason, pocket spring mattresses are often recommended for orthopedic patients with hip and shoulder problems.

Extreme Comfort

Because they are often high-end mattresses, pocket spring mattresses are fitted with a luxurious upper-layer of foam that makes your mattress soft to the touch and even more comfortable to sleep on at night.

Support for all Shapes and Sizes

The strength and durability of pocket spring mattresses make it so that they are able to support nearly everyone. If you and your spouse have a notable size difference, the pocket springs will allow each of you to experience just the right level of comfort necessary for you to get a good night's sleep.

With pocket spring mattresses, no longer do you have to worry about buying one that the other prefers. Both of you will likely enjoy the mattress you're sleeping on because the pocket springs will adjust to your body.

Durable

Being top-of-the-line mattresses means that when you purchase a pocket spring mattress, you're getting nothing short of the best.
Mattress Features
Medium Firm

Hypoallergenic

Chemical-Free Fire Retardant

Orthopedic
Structure
Quilted with Polyester Fiber
Quilted with 1cm Memory Foam
Quilted with 3cm Wave Foam
Filled with 5cm Support Foam
20cm Pocket Spring ,2.0mm Wire
Quilted with 1cm Regular Foam
3 sealed border euro top design
Mattress Size

Single Size: 91*191*30CM / 36x75x12 inches

Full Double Size: 137*191*30CM / 54x75x12 inches

Queen Size: 152*191*30CM / 60x75x12 inches

King Size: 183*191*30CM / 72x75x12 inches

Net Weight
Gross Weight
Carton Size - VACCUUM PACKED

King Size V2: 32*32*191CM

Weight Capacity:

150Kgs for Single
200Kgs for Double
250kgs for Queen
300kgs for King

5 Years Warranty
Bed Frame Assembly Instruction
Save this product for later